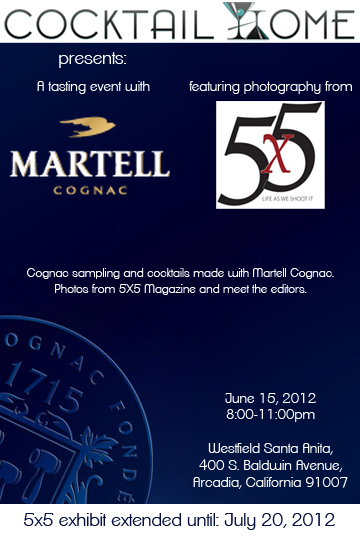 I have been invited to be part of an exhibition at Cocktail Home in Arcadia, California by 5×5 Magazine. The one day exhibition is part of an exclusive cognac tasting event with Martell and will feature photographers from the first and second issue of 5×5 Magazine. I have sent 5 pieces from my In the style of… series. I wish I were able to attend the event in person, but alas, I will not. Anyone who happens to be in the Los Angeles area on the 15th of June, should pop in and let me know how the event goes.
Update: (June 24, 2012)
Cocktail Home has asked 5×5 to leave the exhibit in the store another two weeks. If you have a chance to stop by, make sure you do. From the photos, the display is great!
Update (July 13, 2012):
The exhibition will remain at Cocktail Home an additional two weeks. The owner really likes having the work there! Make sure you go if you are in the L.A. area!