In the Style of… starts with a survey of a portrait artist's over all style. I boil that style down into a summarized version and create a self portrait based on it. I have been fortunate enough to have been working on this project as part of an artistic residency program at The Hive Artists' Hub, and have completed 15 portraits in the series so far. I intended to examine famous historic portrait painters as well as contemporary artists primarily working in paint mediums. The series could go on for quite some time given the number of artists that have made it onto my list. If you have any suggestions, please leave them in a comment.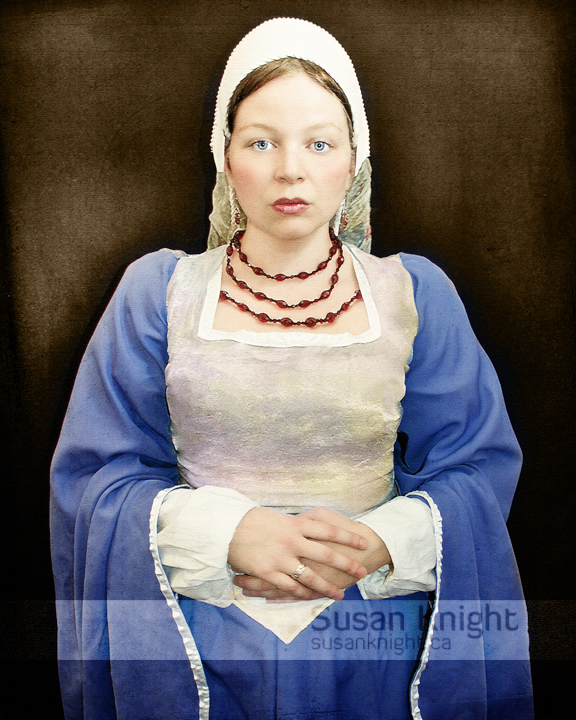 In the Style Of . . .  Hans Holbein The Younger                                        2010
Hans Holbein the Younger (1498-1543) was court painter under King Henry VII ofEngland's rule during his marriage to Anne Boleyn. CBC's "The Tudors" inspired me to learn about his work. I first produced this piece as part of "The Divine Diptych project", where my partner for the week and I were assigned the theme of Tudor.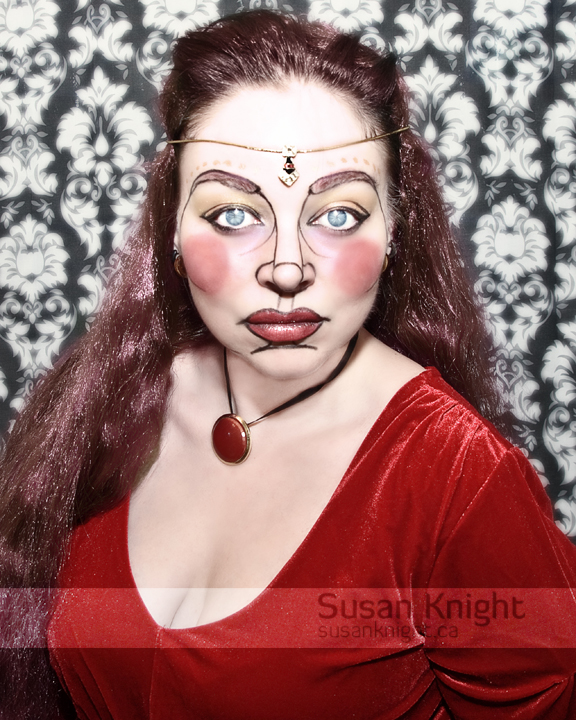 In the Style of . . .  Merle Pace                                                                   2009
Photography, printmaking, handmade dolls, and jewelry are just some of the media Merle Pace uses in creating her magical art pieces. Despite never having met face to face, the Indiana artist has been an inspiration and a friend for several years now. I created this piece for Merle to cheer her up when she was going through a tough time in her life. For more about Merle, visit her website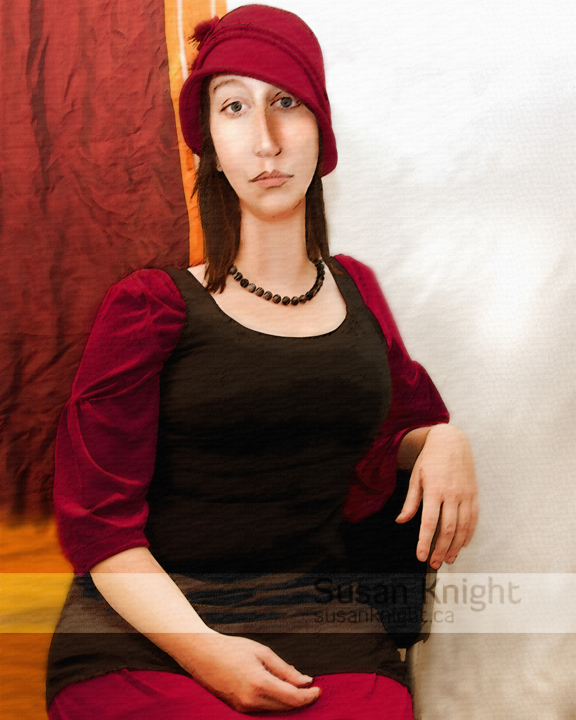 In the Style of . . .  Amedeo Modigliani                                                     2010
Amedeo Modigliani (1884-1920) has always been one of my very favourite artists. He accomplished great things in a very short life. I have completed art projects based on Modigliani's work in both high school and college, and it seemed only fitting to include in my "In the Style of…" series.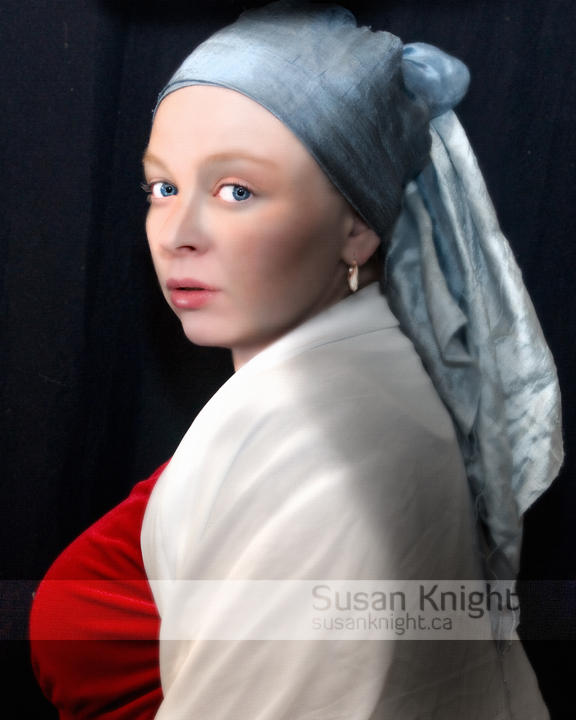 In de stijl van Vermeer                                                                                2010
In doing the research for this piece, which was one of the earliest pieces in the series, it was Johannes Vermeer's (1632-1675) unique use of light and shadow that I found most interesting. I wanted to play with that idea in paying my version of the Dutch master's style.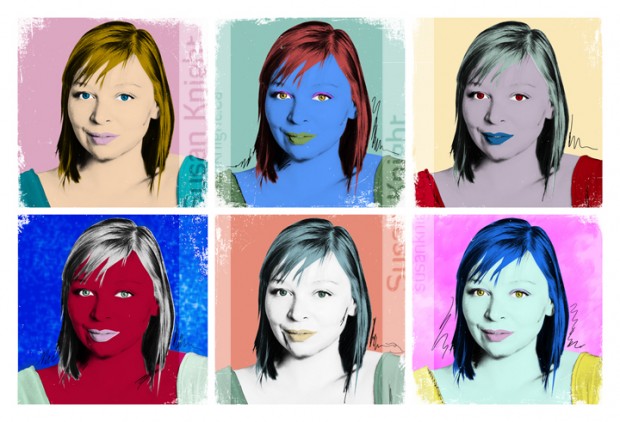 In the Style of . . . Andy Warhol                                                                  2010
I have taken one self portrait each day for almost four full years. During that time, I have turned to Andy Warhol's (1928-1987) serigraphs for inspiration for three separate pieces.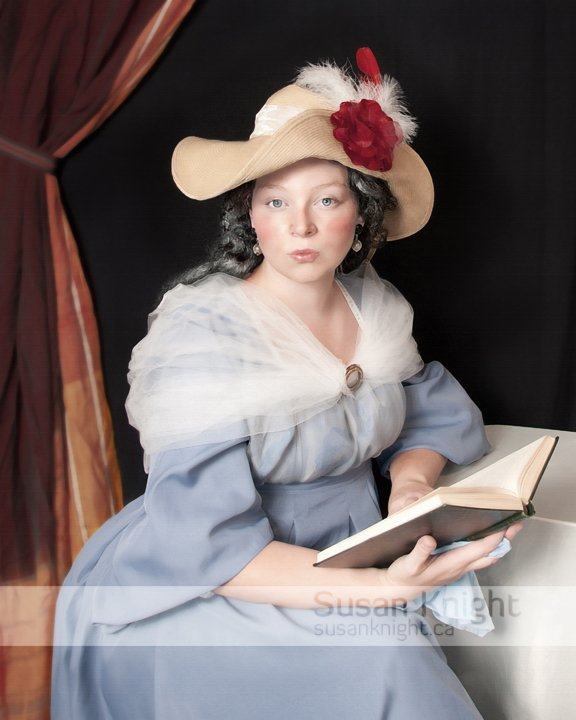 In the Style of . . . Élisabeth-Louise Vigée-Le Brun                                   2010
Élisabeth-Louise Vigée-Le Brun (1755-1842) is one of the most well known female painters of the 18th century. She served as portraitist to Marie Antoinette between 1783 and 1789, during which time she painted more than 30 portraits of the queen and her family.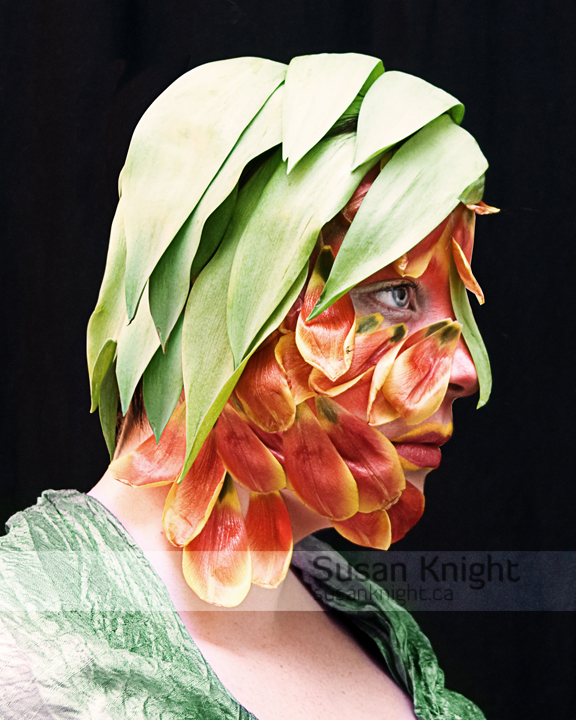 In the Style of . . . Giuseppe Arcimboldo                                                 2010
Few people seem to be familiar with Giuseppe Arcimboldo (1527-1593)… Until you explain that he is the artist who painted portraits of people as compositions of vegetables, meat, trees and so on. For this portrait, I chose to use spring tulip petals that fell from a bouquet that was given to me by someone very special.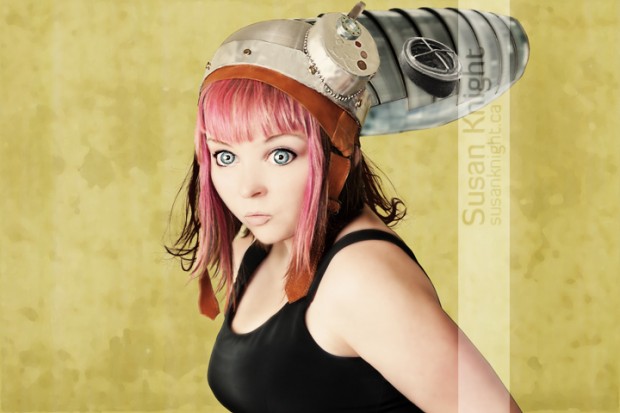 In the Style of . . . Camilla d'Errico                                                             2010
I first learned about Camilla d'Errico when my boyfriend brought me two of her postcard books as a souvenir of a trip to Vancouver in October 2007. He bought them because, as he said, "they were cute and fun and reminded him of me!" I have framed three of the postcards from the "Helmet Girls" and hung them in the smallest room of the home we now share.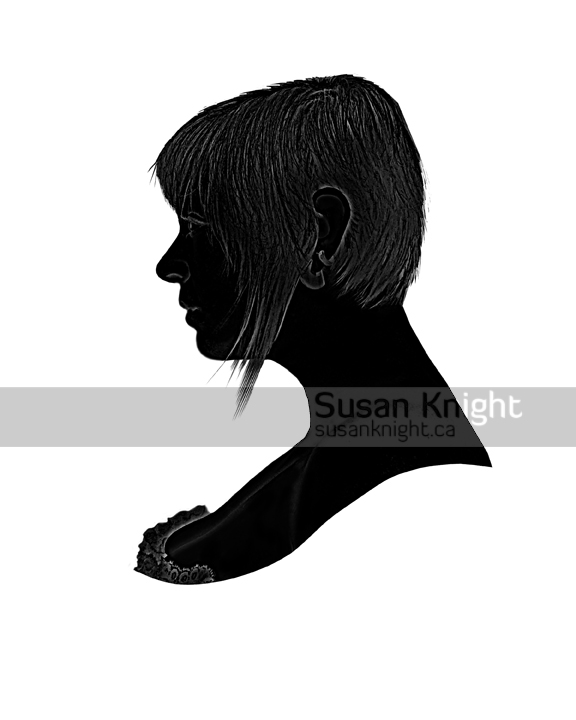 In the Style of . . . John Miers                                                                      2009
John Miers (1756-1821) is commonly regarded as the worlds best profile artist. His work is best known for the detail and accuracy despite being not much more than a silhouette. Despite the detail and accuracy afforded by digital photography, creating a compelling silhouette is a completely different challenge.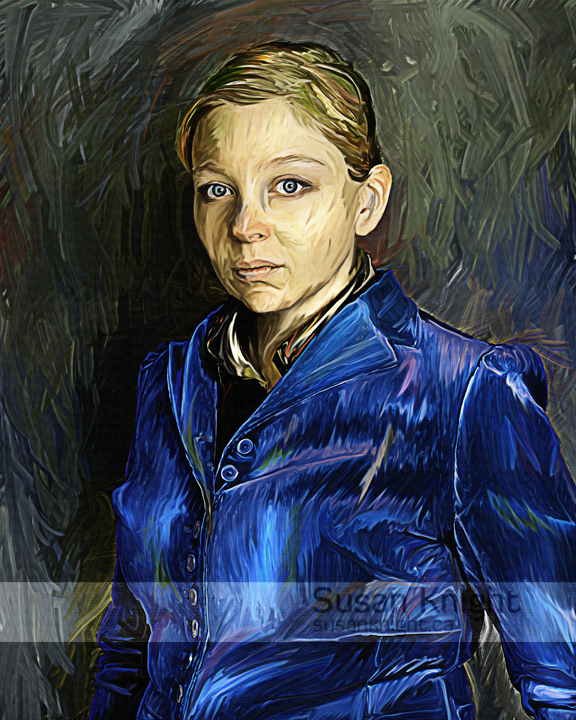 In the Style of . . . Vincent Van Gogh                                                        2010
Over the course of 3 years, Vincent Van Gogh (1853-1890) produced 30 self-portraits and mastered a very distinct style. This made him a natural choice for the series. This piece was one of the more challenging pieces as the process turned into one of digital painting.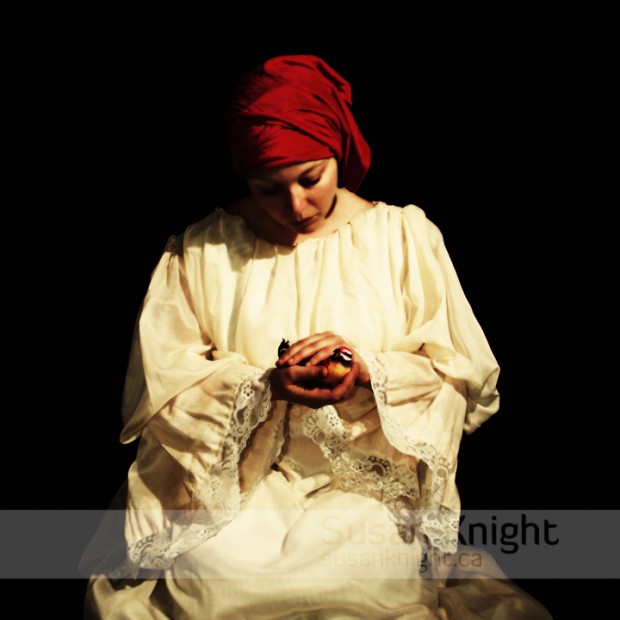 In the Style of . . . Roi James                                                                       2010
I have taken one self portrait each day for almost four full years. As part of that project, I keep a list of ideas and inspirations; Roi James' The Blue Butterfly has been on that list for at least 2 of those years. Upon showing the completed piece to James, he expressed that it "did capture the feel of [his] figurative portraits"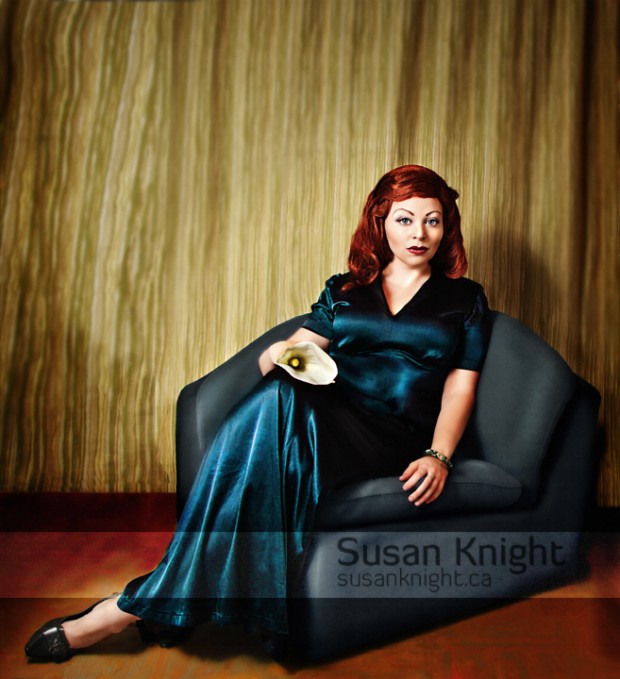 In the Style of . . . Diego Rivera                                                                   2010
Frida Kahlo was one of the original artists on my list for this series, but I turned to her husband after struggling with the distinction between taking on Frida's style and taking on her identity. After following the trail of portraits painted of Kahlo by Diego Rivera (1886-1957), I found other portraits of his to draw from, despite the common perception of him as primarily a painter of murals and frescos.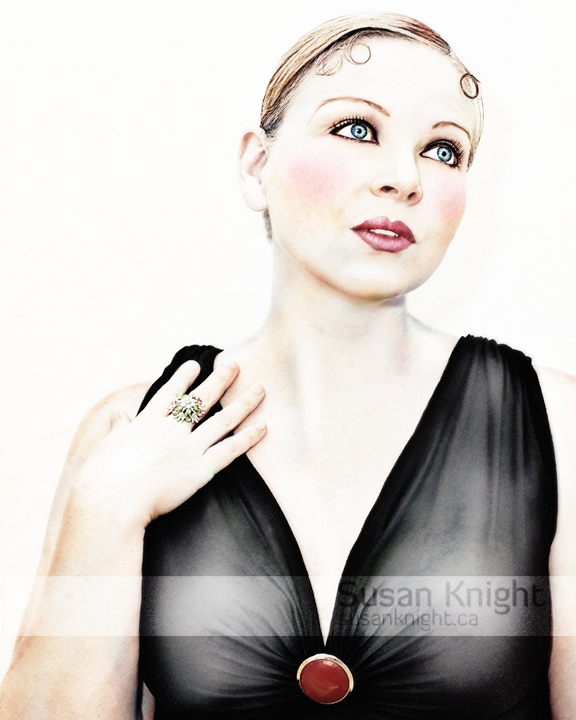 In the Style of . . . W. T. Benda                                                                     2010
The changing face of woman in the early 20th century has always inspired me. W. T. (Wladyslaw Theodor) Benda's (1873-1948) illustrations and drawings often graced the covers of woman's magazines during this time, and his stylish pieces were an irresistible lure to me.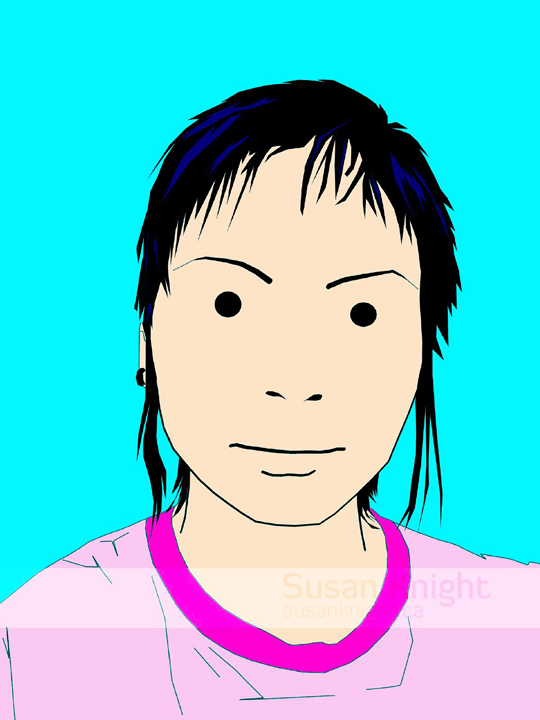 In the Style of . . . Julian Opie                                                                    2006
This is the earliest piece in this series, although I hadn't even thought of doing a series when it was done. This work was early in my career as a photographer and self portraitist, and originated primarily as an exercise in post-processing using Photoshop. I selected Julian Opie for the bright colors and simplified form.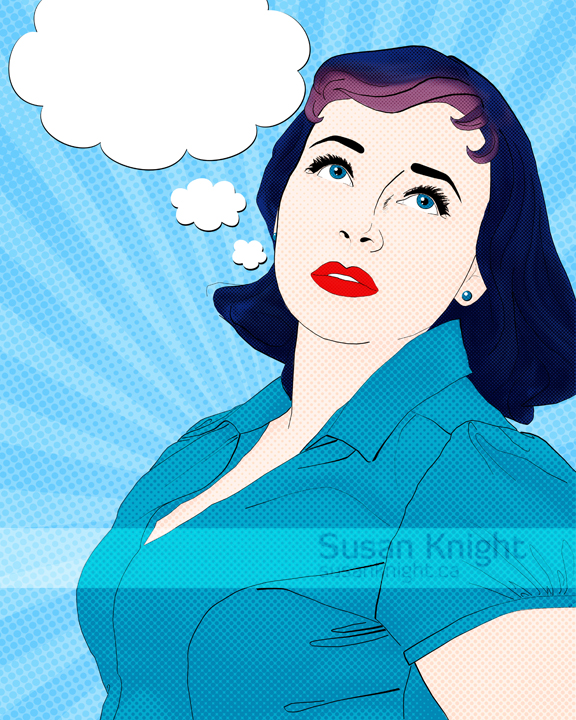 In the Style of . . . Roy Lichtenstein                                                            2010
Roy Lichtenstein (1923-1997) is one of the first artists I can remember being inspired by, and I have turned to his pop art style on a number of occasions as exercises in post-processing in Photoshop. I have completed several portraits in his comic inspired style, and this is the second self portrait at this time.
Memo board